Britain's best dog walks

Dog walks. Experience the world and connect with your dog in a way that's easy, accessible and affordable for all. Nothing's better for health and happiness than getting outside, breathing in fresh air and interacting with other dogs, people and things. OK, The Best Dog Walks in the UK is a very bold claim, but we asked our vets and we think these are all pretty nifty spots.
Crystal Palace Park, London

Catch some urban wilderness in South East London. 80 hectares of wildlife and historic features with an on-site cafe. Solve the Crystal Palace Park Maze. It's one of the largest in the country and it's sure to vex even the most curious of pups.
There's a skatepark, a boating lake and loads to occupy dogs and dog lovers. Get some hilarious responses from your dog when you come across the full-size dinosaur statues that poke out of the trees in Dinosaur Court.
Prod SE20 8DT in your sat nav, or get the train to Crystal Palace or Penge West and it's a short walk from either.
Bramham Park, West Yorkshire

Fascinating surroundings, easy access and good solid paths with lots of space for your dog to run free. The parkland surrounding the stately home features grade I listed ornamental structures like Bramham Park Chapel, The Gothic Temple and The Obelisk. All weirdly and wonderfully built in the 18th century.
The trick is to park close to Bowcliffe Hall by the A1. You can park for free on the approach road and then head straight into the grounds of Bramham Park where you'll be spoilt for space, splendorous views and stick throwing opportunities. If you prefer a longer walk to the grounds, you can park in the Domesday village of Thorner and head into Branham Park from the opposite side.
Castle Combe is an area of outstanding natural beauty in Wiltshire, a quintessentially English village that's been named the prettiest in England.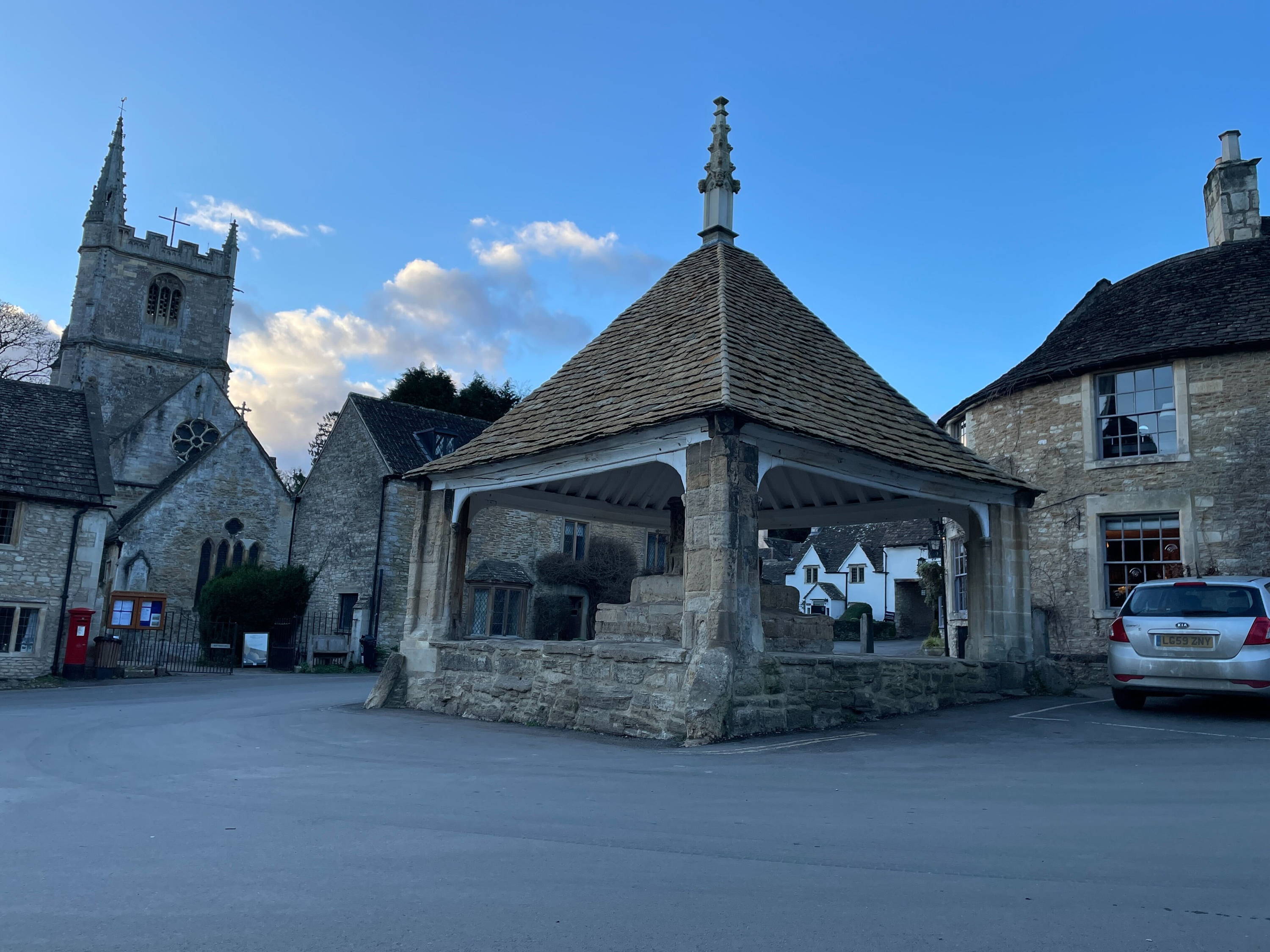 Jaw dropping bridges and cottages steeped in history with tons to Instagram. Give yourself 3 hours for close to 5 miles with time to peruse and ponder. It can be muddy in places with some stiles to hop. Paths run through bridleways, woodlands, fields and through the village itself.
Joii's Co-Founders Sarah & Robert enjoy walks here with their Border Terrier Arthur.
When it comes to dog walks along the Cornish coast, you're spoilt for choice. The perfect location to fill your lungs with sea air. Miles and miles of open space just waiting to be explored by you and your dog.
Follow the beautiful coastal path by the golden sandy beaches, grassy dunes and swaying wildflower meadows. You'll find plenty of opportunities for your dog to sniff, socialise and live its very best life. It's a challenging walk, around seven miles long. But the first mile is more gentle, and if that's enough for you, just head back. A mix of stoney paths that are muddy in places with a bit of sand too.
Spot seabirds and wildlife about the paths but watch out for unpredictable sheer cliffs. Keep your dog on the lead on the tops. Some of the beaches also have seasonal restrictions.
Dartmoor National Park, South Devon

The Dartmoor moorlands cover nearly four hundred square miles. Space to exercise with your dog regardless of your fitness levels and options to adapt the walk to be as long as you like. Terrain is uneven with muddy grassland that's boggy at times. Weather can change quickly on the moors, so make sure you're prepared.
If you're climbing any tors, be sure to keep your dog on a lead as there are hidden drops between the granite. The park does request that all dogs be kept on leads between March 1 to July 31 during the lambing and nesting season. Outside of this time there's plenty of space to explore off-lead for much needed fresh air.
Bennachie Hills, Aberdeenshire

This group of peaks in Aberdeenshire has trails ranging from three miles to eleven. Perfect for a light family dog walk with a picnic, or a full day hiking and exploring. The scenery along the way is breathtaking. Wear solid footwear for stoney pathways and muddy grassland.
It is one of Daisy's favorite spots to enjoy fresh air with Joii Vet, Sheila.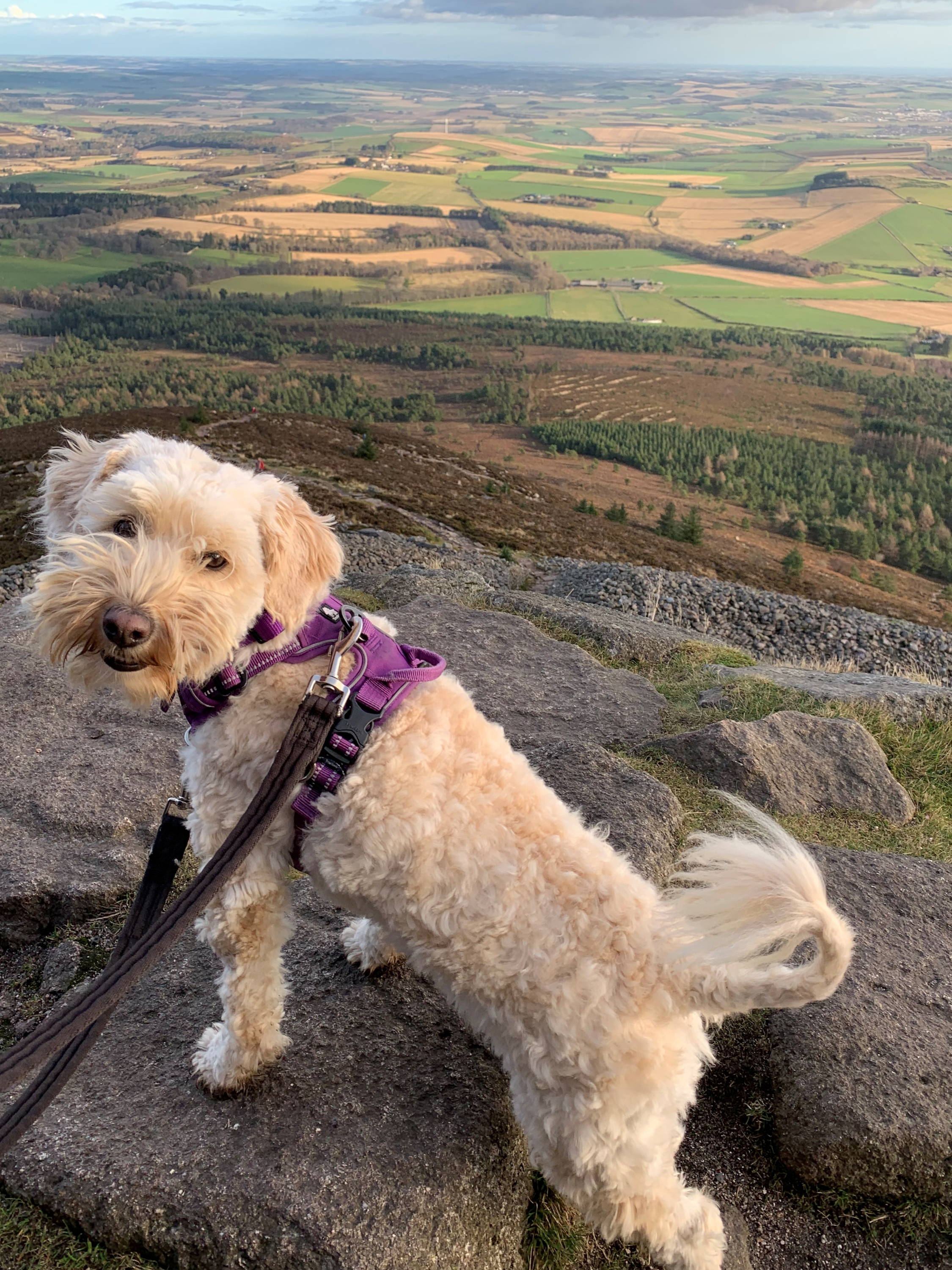 For a challenging walk with your dog in South Wales head to Garth Mountain outside Cardiff. Roughly five miles long, it takes about two hours if you're moving at pace. But be careful, it gets steep.
It's mostly mud paths and grassland underfoot, with plenty of new smells under nose. Optional routes take you through woodlands and fields and give you great views from the top. When you get there, take in some air and give your dog a reward. A great cardio workout.
If your dog enjoys off-lead time only, best to sit this one out, as there are livestock signs to respect.
We're adding to this list of the nation's Best Dog Walks. So please send us a link, tag us @joiipetcare or even send us a write up about your favourite walk and we'll be pleased to share it here.
DOWNLOAD JOII TO IMPROVE HOW YOU CARE FOR YOUR PET

UK pet owners are tapping into Joii. Joii gives you a completely free pet symptom checker. It gives you fast and online access to affordable vets. And you can order food, toys and other pet products in the app. The best part is that it's completely free to download!